Filter by Category
College Transitions
Registration Unavailable
COLLEGE TRANSITIONS
Price not
available
with Sandra Brown
FRANKLIN COUNTY ADULT EDUCATION THE TIME IS NOW!! COLLEGE TRANSITIONS
Ready? Set? GO!! Are you prepared to go to college? Need a little support before you head off to campus? The Adult Education Office is here for support on your journey. We are having a College Transitions class. Come brush up on ELA, Math, Technology and College Culture.
EXPLORE COLLEGE AND CAREER OPTIONS
Contact Sandra Brown sbrown@mtbluersd.org
Join us to plan your future whether you have graduated from high school, or have your HiSET or have taken college courses!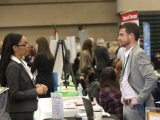 Online Registration Unavailable
COLLEGE AND CAREER READINESS
with MICHAEL BURD
Here's just a sample of some of the available topics: Google Drive: word processing, spreadsheets, presentations, distance/online learning basics, work readiness, resume writing, creating an E-Portfolio. Call to schedule. 
Days Mon & Wed
Time 1:30 - 2:30pm
Dates Ongoing