Filter by Category
College Transitions
CERTIFIED RESIDENTIAL MEDICATION AIDE
with LAURIE HISCOCK
A 40-hour course designed to teach Residential Care Workers to administer selected non-injectable medications in a Licensed Residential Care or Group Home setting. The course provides the basic understanding needed to administer medications and to document safely and accurately. The course covers State of Maine regulations, standard residential facility policies, basic anatomy and physiology, common medications in the majority of drug classes, and the practice of safe medication administration procedures. Once enrolled, participants must complete all classroom and clinical components, without exception. Mock med passes are completed as part of the classroom experience. In addition, participants are required to perform 3 med passes supervised by an RN in a clinical setting. Documentation of these med passes is due within 45 days of the completion of the course. It is important for the CRMA to understand exactly what the roles and responsibilities of this position include.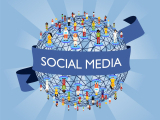 Registration Unavailable
SOCIAL MEDIA SKILLS
Price not
available
with Nancy Hilliard
Want to be on Facebook or Twitter? Learn how you can access these social media to help you stal in contact with family and friends. Sessions will be individually set at your convenience. Contact Nancy at 864-5384. A one time fee of $10 is payable at our rst meeting.